Okay, so some of you are probably like "TBTBWhaaaaat?"
The #TBTBSanta. That's the hashtag for the Secret Santa hosted by The Broke and the Bookish every year. I'm participating this year (YAY!), and I wanted to talk about it a bit. If you want more info on what this is,
click here
!
This is my second year participating in the Secret Santa--my first year of participation was 2012, then I skipped last year (I think I completely missed sign-ups), and then this year I made it in by the grace of sweet baby goodness. (Seriously, I cut it close. Luckily Jamie was wonderfully amazing about it.) I am SUPER into this exchange this year. Like, honestly happy all the time about it to the point that I may cry because I'm that kind of person.
So I wanted to explain WHY I'm so weep-happy and excited. Well, other than the fact that the whole thing is pretty darn fun.
The reason WHY ties back to my first TBTB Secret Santa experience, which was my only one before this year. But still. It was my first.
I've always adored Christmas. Not because of gifts (though don't get me wrong, I find great joy in getting and opening gifts, same as I do giving other people gifts and then they get all happy and it's so freaking great!), but because this whole season is magnificent to me.
Winter is my favorite season. I love this time of year and I love snow and I get all kinds of excited. It gets darker earlier, and I enjoy that, too. And no, I'm not saying this because I'm a girl who lives in Texas and has no idea of what a REAL winter is like. I grew up in Buffalo, New York, the place that has been going crazy with snow this week. I know what heavy snow is like. I know how cold it gets, and how not fun it is to have to go outside in that and deal with it. But it doesn't make me love this season any less.
When November comes around, I start getting excited, but I try to keep it subdued. I have nothing against people who want to start celebrating and decorating the Christmas season before Thanksgiving. I understand the desire to stretch that jolly time out as much as you can. But for me and my family, we get into Christmas starting the day after Thanksgiving. Put our tree up and get right into it.
And then in December, we are ALL OVER it. Christmas movies and specials, cookies, decorations...ohmygosh, my mom makes the inside of our house into the most fantastic place. I remember coming home from school to see the place get more and more decorated each day and it was magical. And me...I'm in the very best mood pretty much the whole time. Well. We all get into low moods sometimes. But I get hyper excited more often this time of year than any other time. December is my favorite month.
So the point to all the Christmas ramble--I love the holiday and the season and this time of year as a whole. Signing up to do Secret Santa was icing on the cake of awesome that first year. Oh, and it was my first year of blogging, too, so that was like double the awesome.
On my end, I was looking forward to getting my match a gift. I checked out her Twitter and Goodreads, thought through what I thought she'd like. I did end up getting her something I thought she'd like--Jennifer L. Armentrout and Pepe Toth were in Houston for the Opal release party that year, so I got a copy of Opal signed by both of them. Then I gathered some bookish fun stuff--swag and whatnot. And I made her a card. And sent it all over to my match.
There was thought put into the gift. I was honestly excited about it as I put it together and made the card and tied it all up for my brother to take to the PO for me (bless his soul). But there wasn't much PLOTTING to it, if that makes any sense. I didn't go through things with giggles thinking Will she think this is the coolest thing since sliced bread? or anything else. Because it was my first year doing the exchange and it was my first year blogging and I was still getting a feel for everything. I didn't even really MEET any bookish/blogger friends until that Opal release party. So it was a big deal to me.

(Reading over that paragraph, I feel like it implies I didn't try much. I DID. But it wasn't as much of a to do then, if that makes sense.)
But then there was the gift I was given. Guys. It was amazing. I think I'm going to tear up writing this part because it blew my mind how...AMAZING it was.
The gift was sent in a Christmas-decorated box. Red and green striped, all pretty and festive. We opened that right away, because no way could I NOT. Inside, there was a tote bag. It's a bag I still use today at book events and for school and nearly everything I need a bag for. If you've ever met me/if you ever meet me in person, you'll probably recognize this: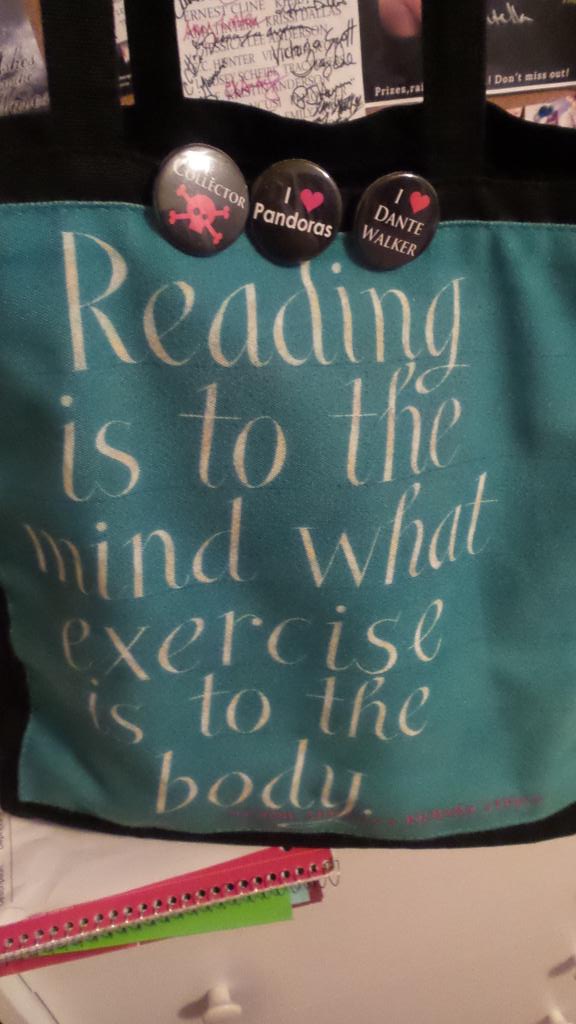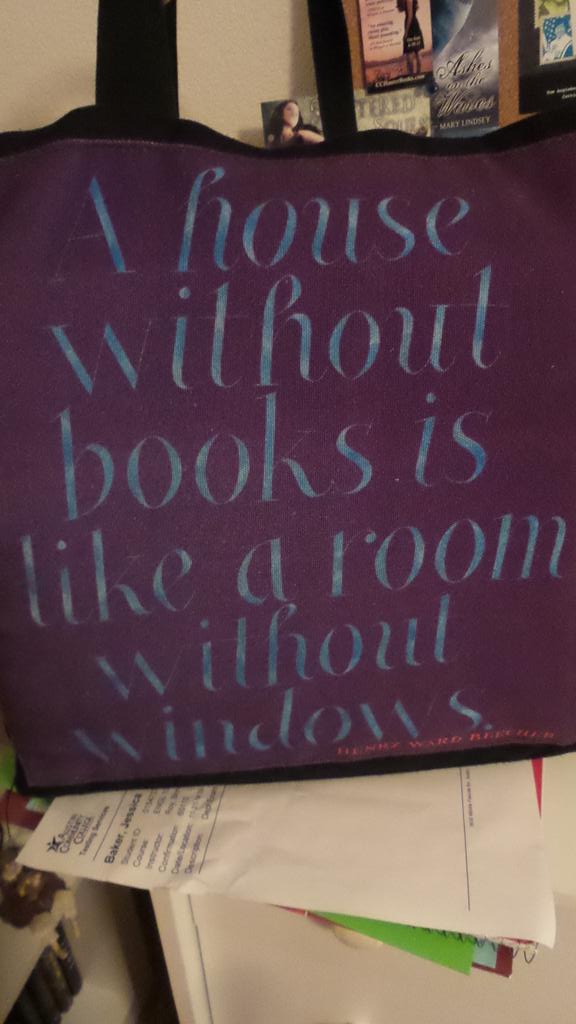 Inside that tote bag was a card. A nice little note from my Secret Santa, wishing me a great holiday and telling me who she was. Underneath the card were two wrapped gifts--books that my mom took away immediately, saying I had to wait until Christmas to open them since they were in wrapping paper. (They ended up being
Starcrossed
and
Sweet Evil
, by the way.) And then there was the cutest bookmark, a cute little worm squirming its way out of a book, and there was a tassel on top--I LOVE tassels, so that was great.
I was over the moon with that stuff. TWO books! A note! A bag! A bookmark for
Tiger's Curse
, which I planned to read soon!
But that wasn't all that was in the gift. I thought it was for a bit, but then my brother was messing with my bag (typical.) and felt something in the inside zipper pocket. So we opened it and pulled out what was inside.
There was a receipt for the books--which I did NOT look at, and my mom snatched that up the moment she heard it was there, too. There was also another little note, again wishing me well.
And there were these two ornaments, made specifically for ME.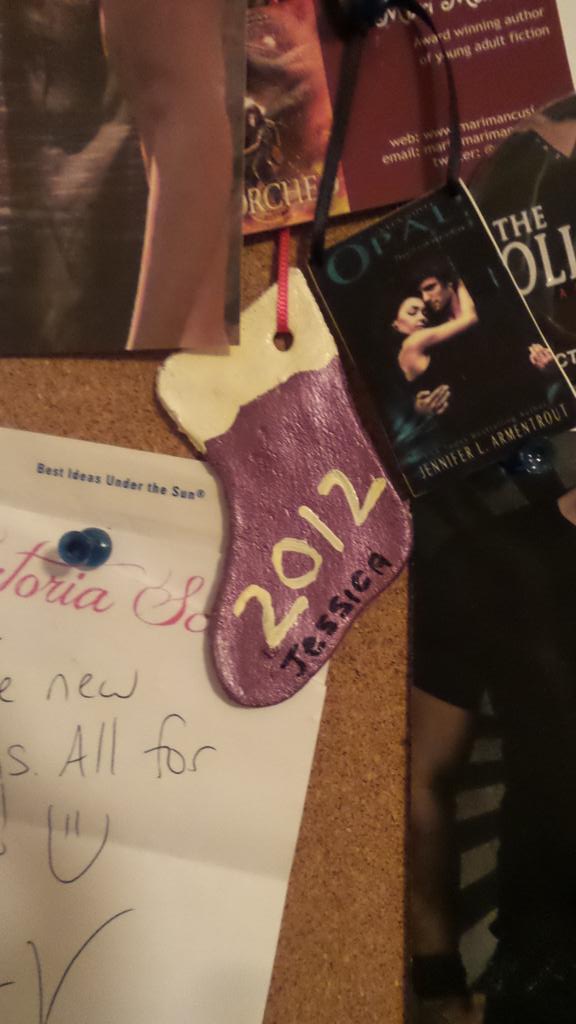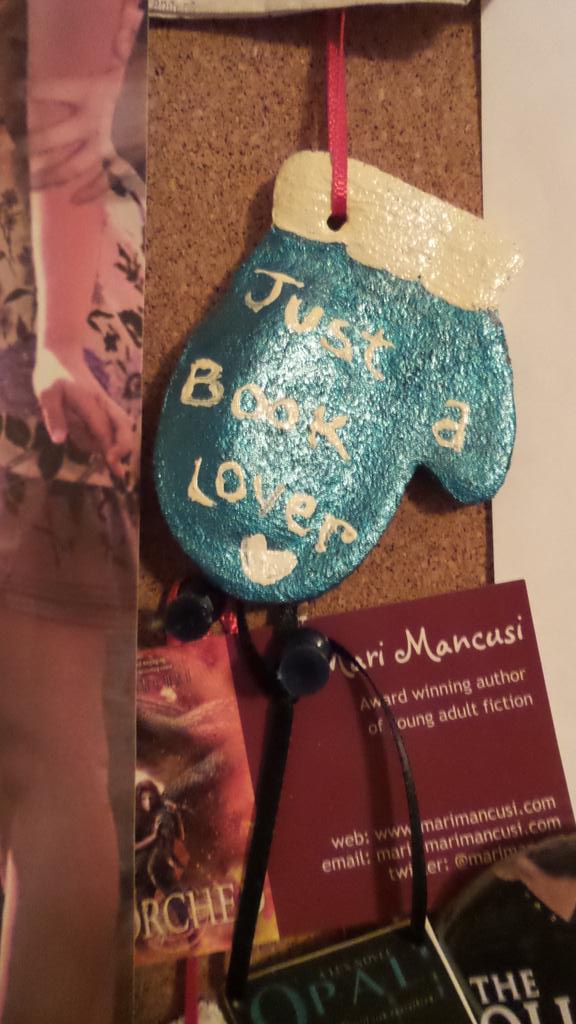 (Just a Booklover is the name of my old blog)
After opening these, I swear I smiled for the rest of the night. They were the sweetest, most thoughtful things and I'd never imagined anything so...intricate and amazing when I signed up for the Secret Santa exchange. I'd predicted a book and a note or card, and that was it--which likely explains why my gift was so lackluster in comparison.
But these ornaments? My favorite gifts EVER. We put them on the tree right away, of course. And I keep them on my bulletin board of bookish awesome year-round when the Christmas tree is down. These babies don't go in the box with the others.
That first year was more than I'd ever anticipated. It's such a great memory for me, and that feeling. That feeling I got when I opened my gifts, and when I found those ornaments? That is the very best thing to me--especially during this time of year. I am so grateful to my Secret Santa for giving me that feeling and being so wonderful. It's something I will never ever forget, and it's also something that I keep in mind now.
That first year, I could have done better. I honestly tried, but I don't feel like I tried hard enough.
But this year? I am PLOTTING and PLANNING and it is fantastic. I went to B&N today to check some stuff out about what I hope to get my match. I already have one book and a few other things I think she'll like set aside for the package. I'm putting forth so much effort this year--because I want so badly to give my match that feeling. That happy, excited feeling I got when I opened my gifts my first year of Secret Santa.
I kind of doubt whether I have the ability to give that feeling--I'll darn well try my darnedest. But even if my match gets a little taste of that happiness, then I'll be a happy camper.
And checking out the #TBTBSanta hashtag, I get the feeling that there will be a lot of people experiencing that feeling. Because I'm seeing people be so, so generous. And helpful. And all kinds of fantastic things that I could list, but now I'm feeling teary so I'll stop listing. It's magical to me how kind this whole community is. How some people are giving SEVERAL books because they think their match would adore that series. Or how some people are making grabby hands all over the place for things they feel their match would like to have. And how everyone is so helpful when anyone has a question about whether they should send using a flat rate box?
I guess the whole point of this post--this long, long post--is to say thank you. To Jamie, for being the miracle worker behind the whole event. And to everyone participating for being generous, kind, and putting forth the most heartwarming efforts to make this experience the best it can be in all ways possible.